Ramen is a Japanese soup, by way of Chinese noodles, that has become an American obsession. Therefore, ramen noodles become part of our cultural lexicon in their ubiquitous dried mass-produced packets that sustained a generation of latch-key kids and college students, but they also grew to a burgeoning restaurant sub-culture of scavenger-hunt ramen shop tours and enthusiastic slurping. We can show you how to make the ultimate restaurant quality ramen at home.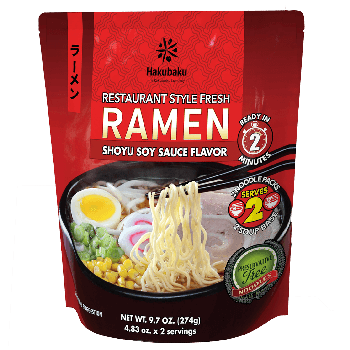 Making ramen from scratch is pretty darn elaborate. It can be a multi-day affair, and if you simply don't have time for it, it can seem very intimidating. Our shoyu ramen recipe calls for using three important components: the soup base, and Ajitsuke Tamago and chashu as showstopping toppings. You can certainly eat a decent bowl of noodles without one or two of these players, but man oh man, magic happens when they all come together in one bite.
Shoyu soup base: Dashi and Tare
Typically Dashi (seaweed and fish flakes or bonito flakes) and tare (concentrated soy sauce) take time and are the basis of the Shoyu ramen bowl. We will cut a corner here and use the Shoyu soup stock from our Traditional Shoyu Soy Sauce Ramen sets. If you prefer vegetarian soups, our Umami Shoyu ramen set would be the way to go. Both Hakubaku Shoyu base soup stocks contain the basic dashi and tare elements- ready to go.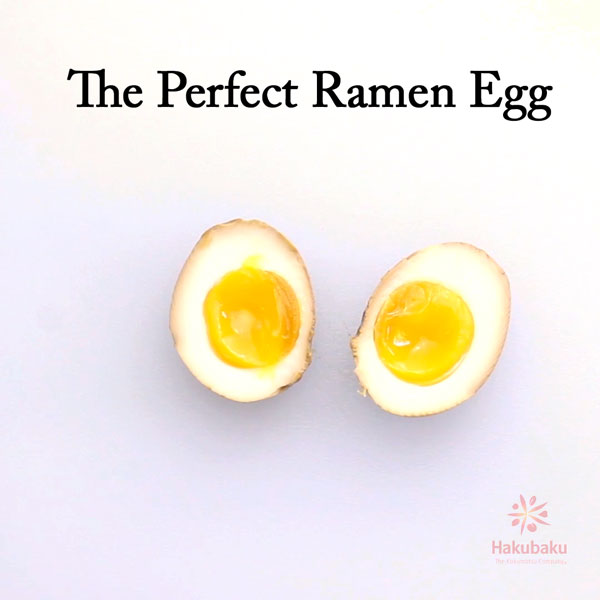 Ajitsuke Tamago
To make the ultimate restaurant quality ramen at home you have to have a gooey, tasty ramen egg. There is nothing more awe-inspiring than an egg done well. In this case, the eggs are soft-boiled, peeled, and left to chill in some of the Shoyu soup marinade overnight, for 6 to 12 hours.
Chashu
Braised pork belly, aka a little slice of heaven and a staple of any good ramen bowl. It might quite possibly be the most melt-in-your-mouth pork experience you'll ever have. Pork belly with skin on is the best cut to use. If you can't find that at your local butcher, pork shoulder will do just fine. For a quicker result and smaller portion, you can always use pork belly ends (ask your butcher, see video below).
Ingredients
For Ajitsuke Tamago
Baking soda
Eggs
Japanese Shoyu soup base + 1c water (in our Shoyu Soy Sauce set)
Cooking sake
Mirin
Soy sauce
For Quick Chashu Pork
3⁄4 pounds pork belly
1 tablespoon oil
1⁄2 cup soy sauce
1⁄3 cup sake
1⁄4 cup water
1⁄4 cup honey
2 tablespoons green onions 2 tablespoon ginger
3 cloves garlic
Directions
In a small bowl add brown sugar, 1/2 shoyu soup base, rice vinegar, and water, whisk to combine. Add green onion and ginger. Set aside.
In a small pot, bring 4 cups of water to a boil. Gently drop in 4 eggs and reduce heat to medium. Cook uncovered for 7 minutes. Remove eggs from hot water and place gently into ice water. Let cool for 5 minutes. Peel eggs.
Place eggs in the marinade, cover with plastic wrap and rest a plate on top of the plastic wrap to keep the eggs submerged in the marinade. Refrigerate 3 to 4 hours depending on desired saltiness.
Preheat oven to 300°F (150°C).
In a frying pan heat oil. Add pork belly fat side down. Sear for 4 minutes on each side until golden brown. Remove pork belly from the pan and place it fat side up in a baking dish deep enough to hold the brine.
In the baking dish with the pork belly add the soy sauce, sake, water, honey, garlic, ginger, and green onions. Move the pork belly around in the mixture until all of the ingredients are incorporated.
Bake for 3 hours flipping the pork belly halfway through. Flip it back fat side up when there is one hour left.
Let the pork belly cool slightly in the brine before covering it and placing it in the refrigerator. Refrigerate at least 8 hours or overnight.
On a cutting board slice the pork belly 1⁄4 inch thick. Cut the eggs in half.
In a pot bring 2 cups of water to a boil. Add 1 soup packet and stir. Add the fresh ramen noodles and stir for 2 minutes until cooked.
Pour Ramen into a bowl and add the sliced Chashu Pork, Ramen Egg, nori, and green onion.
ENJOY!