Tired of the fried instant ramen with soup? Finding fresh ramen noodles to make your own bowl of ramen is easier than you think. Fresh, soft ramen noodles are the start of a great bowl of soup. Fresh ramen is also sold in bulk and where to buy bulk ramen can be an issue if you are a ramen fanatic. But fear not- we have the solution!
Where to buy?
There are different types of ramen that can be found online and in your local specialty market. It all depends on what you want to achieve in taste and texture. Ramen noodles produced in a ramen restaurant on site would be worth it for a splurge and a night out with friends. We like to make ramen at home with noodles that come closest to a restaurant experience.
The details are in the ingredients
Ramen ingredients vary slightly but are based around glutenous wheat grown in slightly alkaline water, salt, water, and egg white. The ingredients are formed into a dough and let to rest. Kneaded and pounded the dough is formed into noodles. Techniques vary, but essentially long lengths of dough are rolled out and folded over and over until strands form. Over time, this method of "pulling noodles" gave way to ramen extruders as its less labor-intensive and faster! Some higher-end ramen shops actually will have ramen machines on-site to create their own dough and control the chew and flavor.
Making fresh ramen at home
You can get the restaurant-fresh taste looking for a noodle that is non-fried, holds enough moisture to keep the noodle soft, and is flexible before cooking. Some can be found in the freezer case and some come shelf-stable ready to use. Hakubaku carries fresh ramen in our Kaedama bulk ramen packs and in our single-serve and traditional ramen sets.

How to Cook Ramen Noodles
Fresh ramen noodles cook properly in boiling water and don't get mushy over the course of your meal. And you have the option of a hard or firm noodle when cooked for 2:00 minutes or softer noodles when cooked for 2:30 minutes. When combined with your favorite toppings and broth you get as close to restaurant taste without being there!
What to add to your ramen
Here are just a few top things to add to ramen to go from "meh" to WOW!:
Bok choy or Chinese spinach: Asian greens wilt on contact with hot soup and are a nice contrast to the spices and proteins you will also be adding. Make sure to wash your greens thoroughly, then wash them again—nothing ruins an artfully made bowl of instant ramen like a little sand.
Dried Seaweed: Called nori or kim, sheets of umami-packed seaweed are cut into thin strips with scissors or crumbled atop the broth and noodles. Adds crunch and elements of "the sea."
Eggs (Ajitsuke Tamago):
True ramen fans should always mix an egg into your ramen. Just what shape your egg takes is up to you. Top the bowl with a fried egg, or add a poached egg that can be broken over the noodles and broth with supreme runniness.
Want to make a Ramen Egg?>>see how to make it here.
Frozen vegetables: Every freezer has an extra bag of frozen peas, corn or spinach. Run under warm water for a couple of minutes to defrost, drain and add to the broth. Adds texture and…you are now eating your vegetables!
Gochujang: This widely available fermented red pepper paste is an anchor in many Korean soups and stews and can transform weak broth into excellence. Before adding the gochujang, make sure to combine it with a little rice vinegar in a bowl, stirring to break up the clumps.
Kimchi: You'll find many types of kimchi (cucumber, chive) at your local Korean grocery store. Cabbage kimchi is much easier to find—they sell it at Trader Joe's. All work well in a bowl of ramen, adding a funky and salty addition that can hang out with any broth. See the ramen recipe here.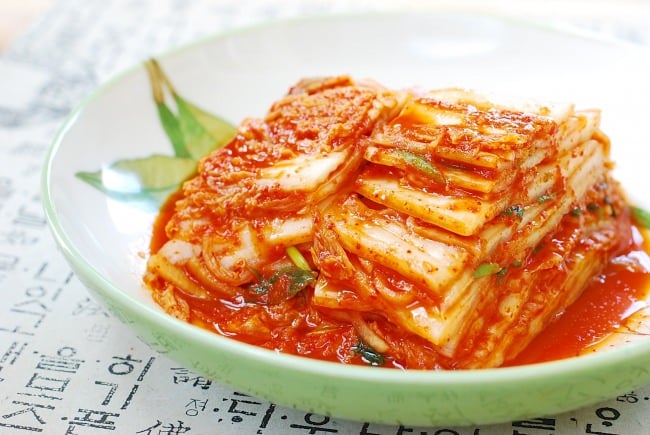 Pickled ginger: Raw ginger is way too harsh for ramen, but when pickled it offers a nice contrast to the spice and a little kick. It also can reset you between bites of other foods on the table (think about the Japanese sushi bar)
Scallions: A near-universal garnish in East Asian cooking, scallions (or green onions) add freshness to a rehydrated food that is anything but. Try not to go overboard—you don't want scallion in every bite.
---
Hakubaku carries a wide variety of noodles in our Organic Ramen, Kaedama Fresh Noodle bulk ramen packs, Single-serve Ramen sets and our Traditional 2 serve ramen sets. Try some today: